Double Lane Roller Bowler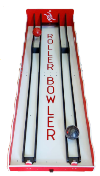 $95.00
Includes up to a 3 day rental (72Hours)
Double Lane Roller Bowler

The Double Lane Roller Bowler Carnival Game will force players to have the right touch. The goal is to roll the weighted ball up the ramp, over the hump and make it stay in the trough. With two lanes it allows players to compete to see who can roll the ball just right before their opponent. It sounds easy but you'll have to have just the right touch.

This carnival game comes on a table and is fun for players of all ages and skill levels.