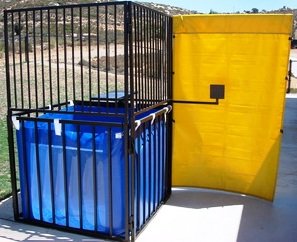 $450.00
Includes up to a 3 day rental (72Hours)
Dunk Tank Rentals - A Tank of Fun!
Dunk Tanks have long been a favorite summer activity at fundraisers, fairs, carnivals, company picnics, school events, neighborhood block parties, and family celebrations!! Dunk your friend, your boss, your teacher, or even your child! Including a dunk tank at your next event will be fun for everyone!
Select the "Dunkee" and have him/her sit on the platform seat above the dunk tank, then take turns throwing a soft ball to see who can hit the bullseye, which will send the "Dunkee" splashing down into the tank of water! You'll be sure to have lots of screaming, ooohs, aaahs, and giggling as you see your favorite "Dunkee" through the clear plastic viewing window submerged in the water. Oh, so much fun and the fun doesn't have to end, just select another popular "Dunkee" and see the crowd line-up!
Attention Dunkees -- be sure to make funny faces while in the tank to add extra amusement to your viewers!!
The dunk tank is made from a sturdy metal frame with a heavy duty vinyl tank that holds 350 gallons of water. The "Dunkee" seat can accommodate people up to 250 pounds. For safety, all Dunkees must be at least 18 years of age or older. Any age can throw at the dunk tank.
The dunk tank requires access to a water source and typically takes about 30 minutes to fill-up with a regular garden hose. The dunk tank should be set-up on a flat area and ideally, with some space around it for those "less than accurate" throws! Please note that the dunk tank will be emptied of water prior to removal and thus the location needs to be able to accommodate the 350 gallons either into the grass or in a nearby drain.

PLEASE NOTE, DUNK TANKS MAY NOT BE SET UP AT PARKS.