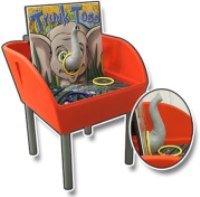 Elephant Trunk Ring Toss Carnival Game

This elephant is ready to catch some rings!! Players toss large rubber rings in an attempt to ring the elephant's 3D plastic molded nose!! The game comes with a child-size stand so that the game is at a comfortable height for the players and four rubber rings for tossing on the elephant's trunk.
While this game is ideal for toddlers at events, older kids enjoy this rental game too -- they just have to stand back from the trunk a bit further to make it more challenging. The elephant trunk ring toss carnival game is very portable and easy to move around if you need to be flexible at your event. Make sure to give not only the space for the ring toss game but also a few feet in front so the participants have room to toss the rings.