Fill 'N Chill Table 4 foot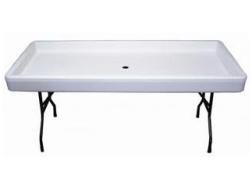 $45.00
Includes up to a 4 day rental
Actual Size: 4' Long with 3.5" Depth for Ice
Fill 'N Chill Table 4 Foot
This "Fill 'N Chill" table is perfect for keeping your beverages, desserts or salads chilled and is perfect for birthday parties, graduations, family reunions, picnics in the park, or even for a school/church potluck picnic! This smaller, 4-foot sized table works really well for smaller areas and is easy to combine with the larger 6-foot Fill 'N Chill to accommoate a wide variety of food items and your specific party area!
The unique table works as a beautiful display table, plus it is designed with a 3.5" in-set that holds 50 to 75 pounds of ice so that the Fill 'N Chill table will surely keep your food and beverages cold and fresh!
The cooler-style table has a tapered bottom and features a two stage drain system. Steel legs lock in place to provide superior strength but collapse for storage. Use indoors or out. FDA-approved polyethylene table top.