Fill 'N Chill Table 6 foot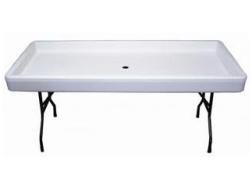 $55.00
Includes up to a 3 day rental (72Hours)
Fill 'N Chill Table 6 Foot
This "Fill 'N Chill" table is perfect for your next party in a park, school/church potluck picnic, or even for a backyard birthday or graduation party to eliminate the constant running back and forth to the refrigerator! The unique table works as a beautiful display table, plus it is designed with a 3.5" in-set that holds 75 to 100 pounds of ice so that the Fill 'N Chill table will surely keep your food and beverages cold and fresh!
The cooler-style table has a tapered bottom and features a two stage drain system. Steel legs lock in place to provide superior strength but collapse for storage. Use indoors or out. FDA-approved polyethylene table top.
The Fill 'N Chill table can also be rented with a white table skirt and custom-made Velcro table clips that fit from the outside of the table into the ice-filled area. Please be sure to request this table skirt specifically and add it to your order!

Include a White Table Skirt with Your Fill 'N Chill Table Rental!

Note: the actual table skirting will be the "Mini Accordian" style
Inside dimensions: 29" x 69" x 3/5" deep
Outside dimensions: 31" x 73", 6.5" deep
Weight capacity of 500 pounds, including 100 lbs. of ice