Fog Machine -for customer pick up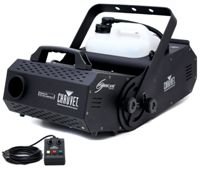 $95.00
Includes up to a 4 day rental
Actual Size: 16.5in x 10in x 8.6in
Fog Machine (for costumer pick up)
Fog Machine for rent in San Diego -
Perfect for Halloween Parties!
From concerts, laser tag, skating rinks to Halloween haunted houses -- the atmosphere of the event can be greatly enhanced by the presence of eerie fog that would make even London jealous!
The fog machine has an adjustable nozzle for up to 180-degree angles, a generous-capacity tank for the fog fluid (3.3 liters), a wired timer remote, low-fluid indicator, and can quickly heat-up the water-based fog to fill a venue within minutes.
This Fog Machine is rented complete with a gallon of "Swamp Fog Juice", which is a water-based, fog machine fluid formulated to create a high density, medium hang time fog. It is perfect for DJ's, skating rinks, laser tags, bowling alleys, concerts and for general lighting enhancement. It is made from the highest quality lab-grade UV-Filtered de-ionized water and pharmaceutical grade chemicals, each approved by the FDA. This is the same fluid used in thousands of amusements parks and haunted attractions.
Features:
* Single Channel DMX-512 Adjustable Fog Machine
* Manually adjustable output angles
* 3-pin and 5-pin DMX connections
* Wired timer remote included
* Manual fog button
* 3.3 liter tank capacity
* 5 minute heat up
* Low fluid indicator and auto shut down
* LED-illuminated tank
Specifications:
* Output: 20,000cfm
* Fluid consumption: 125ml/minute
* Power and current: 120V, 60Hz: 1328W, 11.2A operating, 11.2A inrush, PF 0.99
* AC power: 115V/60Hz or 230V/50Hz