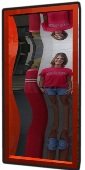 Pair of Fun House Mirrors - One Red & One Blue
The pair of wacky Fun House Mirrors are a great addition to any party room! Everyone will have a balst seeing themselves in the carnival mirrors stretched and shrunk and thin and fat, wavy, wacky, etc.
The carnival mirrors are made with a flexible and unbreakable distortion mirror and mounted in a sturdy wooden frame so that the distortion is different on both mirrors. The frames remain upright with the balance of two steel legs that provide stability and support at the bottom of the mirror.