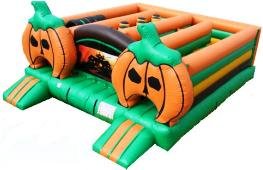 $675.00
Includes up to a 3 day rental (72Hours)
Setup Area: 30'L x 22'W x 11'H
Actual Size: 27'L x 20'W x 10'H
Outlets: 2
The inflatable Halloween Maze obstacle course is perfect for any type of Halloween themed event!
The colorful pumpkin entry and exit lane and the middle haunted house graphic, combined with the traditional green, orange and black Halloween colors is sure to enhance the theme and animation at your Halloween event! The Halloween Obstacle Maze features four lanes of challenging and fun obstacles -- including pop-ups, crawls, and climb-under obstacles.
1st - Enter the Halloween Maze by crawling through the mouth of the right inflatable pumpkin, and begin with a series of green in-out obstacles
Then, turn the corner and traverse through a series of black over-under obstacles (this is easier for the little kids than for bigger kids)
Turn the next corner and enter a series of Ghost & Goblin pop-up -- as you step closer to the pop-up, your weight makes it bend toward you in a slight "bopping" motion
The final part of the Halloween Maze obstacle course is to squeeze through the tighly packed green inflatable obstacles and then through the blue inflatable pillow exit, and then finally out the other pumpkin's mouth on the left side of the Pumpkin Maze -- usually head first!!
Please note IF YOU ARE DOING YOUR RENTAL AT A PARK, you will need a generator and many parks require you to rent the generator from the same bounce house/inflatable rental company (check with your local park for details). San Diego Kids Party Rentals rents out generators and each inflatable will take one generator.
Every park will also require you to obtain a permit for an inflatable. Many of the parks have different permit fees and restrictions, so once again, please check with the local park for details. San Diego Kids Party Rentals can not obtain the permit for you.