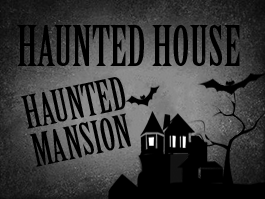 Haunted Mansion Haunted House
Actual Size: 10' x 20' x 16'





Please call to reserve this item

Haunted Mansion Halloween Haunted Room Rental
Are you brave enough to enter the Haunted Mansion? Some say the previous owners disappeared into thin air but still reside there...as ghosts. Navigate your way through the haunted halls and take note of the changing portraits in the picture frames, magic talking mirror hanging on the wall, and-- if you're lucky-- you may see a few ghosts! At the end of the haunted house, you'll see a little playground complete with a working see-saw and carousel with some ghostly riders.

WHAT'S INCLUDED IN MY RENTAL?
The 10'x20' Haunted House is fully enclosed with four walls featuring beautiful printed artwork resembling an abandoned mansion, complete with graphic windows, iron fencing, and a scary black cat. Once inside, the tent walls and hanging panels depict an abandoned living room. The haunted house is jam-packed with professional-grade animatronics, moving props, and themed decorations. Also included is (dim) lighting, hauntingly beautiful music, and featured strobe lights to really give you a fully-immersive experience. If you don't have access to power, we'll include all necessary generators.
HOW CAN I MAKE IT EVEN SCARIER?
We're glad you asked! Consider adding a live Ghost actor to your haunt, and he'll lurk throughout the tent, scaring guests as the turn the corner. It's all about the "boo!" factor!

IS THE HAUNTED MANSION APPROPRIATE FOR ALL AGES?
Yes, but remember, it is a haunted house! There are no blood, weapons, or "boo" scares (unless you hire the ghost entertainer to wander inside), but there is scary music and dark corridors sure to haunt even an adult's nightmares!