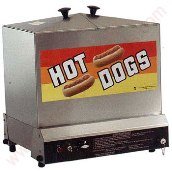 $100.00
Includes up to a 3 day rental (72Hours)
Super Steamin' Demon - Hot Dog Steamer
This is the perfect hot dog machine for large events or back yard picnics!
The "Super Stemin' Demon" hotdog steamer has capacity for approximately 25 hotdogs and a couple dozen buns at a time. Tthe stainless steel steamer and works perfectly for 1/4 pound hot dogs. Depending on the size of the hotdog, the steamer generally cooks frozen hotdogs in 45 to 60 minutes and cooks thawed hotdogs in 20 to 45 minutes. Hotdogs, buns, condiments, and hot dog trays are not provided with the rental.
Want to save money on renting the The Hot Dog Machine? Opt to come pick up the hot dog machine at our warehouse and not only willl you save money on the price, but picking up and returning to San Diego Kids Party Rentals will not fall under any minimum order or delivery fees. Visit the The Hot Dog Machine for Customer pick up. Hot Dog Machine for Customer Pick up
Juice tray to keep the water pan clean
Adjustable thermostat for accurate temperature control
Front drain valve
Low water indicator light
Stainless steel cabinet with stainless steel lids - no rust
Electrical: 1000 Watts 8.3 Amps 120 Volt.
The Super Steamin' Demon Hot Dog Steamer must be operated by an adult at all times and needs to be set-up on a sturdy table or counter within 50 feet of an electrical supply.