Inflatable Carnival Midway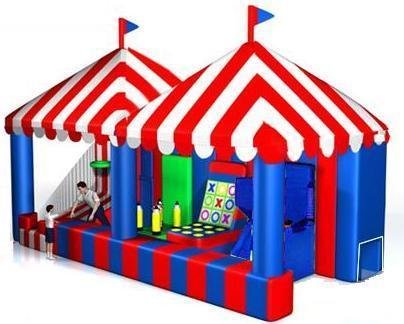 $475.00
Includes up to a 3 day rental (72Hours)
Setup Area: 13Lx22Wx18H
Actual Size: 10Lx20Wx15H
Outlets: 2
Inflatable Carnival Midway
This is the perfect start to hosting your own carnival theme party! The Carnival Midway includes games for 4 people to play at the same time and plenty of built in rings and places to display your prize items (prizes not included with rental).
The games include:
Tic Tac Toe
On-Point Carnival Ring Toss
Hoop Shoot
Hat Trick Magic Floating Ball
Due to the size and game components, the Midway requires access to 2 dedicated electrical circuits or the rental of 2 generators.
Requirements:

The set-up location must be relatively flat, large enough to accommodate the midway with at least 2-feet on all sides, within 100 feet of a standard electrical power source, and accessible via a minimum of 3-foot wide space from the driveway/street. If you are planning to hold your party at a park or recreation area, you likely will need a generator to provide the power source.San Diego Kids' Party Rentals is listed as an "approved" vendor at most local parks and recreation areas in San Diego county.
Click for
San Diego Park Information