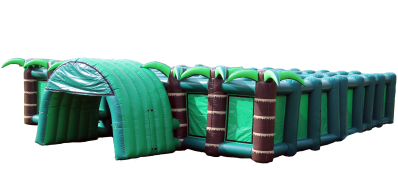 $1,600.00
Includes up to a 3 day rental (72Hours)
Setup Area: 60'L x 60'W x 12'H
Actual Size: 50'L x 50' W x 8'H
Outlets: 2
Looking for a scavenger hunt, a unique Halloween maze, or a corporate team building activity?
The Giant Inflatable Maze is a 50 by 50 foot maze with approximately 15 different routes, and only one exit. The structure is 8' tall which means that participants will need to know where they are, where they have been, and try new ways of finding the exit. The maze as a whole is a huge crowd pleaser as is, but there is more to it than meets the eye.
Scavenger Hunt – We have added 15 bright color (glow in the dark if you want to add black light) panels throughout the maze. Some of the panels are in the main way in/out and others are in "dead ends". Each panel has one to six hidden items that have corresponding numbers (see owl photo). All the hidden items can be found, but it is not an easy task. Kids enter the maze with a list of the hidden items they need to find as they go through the maze. Once they find an item, they write down the number that corresponds to it. Once they have found all the hidden items, they need to find their way out of the maze!
The Team Building Challenge - Groups of 2 to 10 enter the maze with the item list. While each participant will have an item list, each group will have one master item list that needs to be completed up exiting the maze. Groups will have 15-20 minutes (time may vary depending on number of people and amount of time allowed for the whole event) to get their master list out the end of the maze with as many items numbered as possible before the time period expires. It will be up to the group as to what is the most efficient way of getting as many numbers on the master item list as possible. Some groups may opt to split up and meet back right before the time deadline. Some groups may opt to stay together for more eyes on individual panels and keep the master list close at hand. However, all groups must remember that this is a maze and they still need to figure out how to get to the exit. The Giant Inflatable Maze Challenge puts a strong emphasis on working as a team with a time sensitive goal in a fun environment.
Halloween Haunted Maze - for Halloween, this maze will be a perfect attraction for large Halloween events. Includes 20 Halloween themed banners throughout the maze.

""