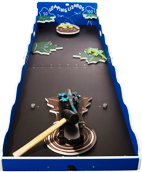 Leaping Lizards Carnival Game
Leaping Lizards Carnival Game is an exciting interactive game in which the goal is to land the lizard on the log or surrounding leaves. The player simply places a lizard on one end of the adjustable arm launcher, aim, and hits the other end with the mallet to make the lizard "Leap" onto the desired landing spot.
The player who is most successful in getting the plastic lizards to the targeted leaves or log will be the winner! The Leaping Lizards Carnival Game will come with it's own 6 foot table which can easily be moved around to the most convenient spot at your party or event.