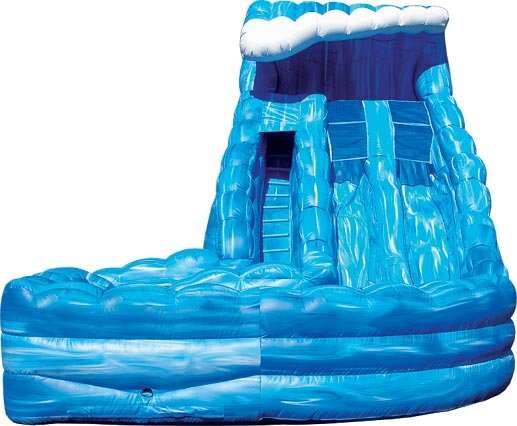 $625.00
Includes up to a 3 day rental (72Hours)
Setup Area: 28'L x 18'W x 20'H
Monster Wave Water Slide -- exciting dual-lane water fun! The inflatable waterslide allows two people to slide down at the same time and enjoy the thrill of the "curve". The bumpers at the end of the inflatable stop the participants from sliding off the inflatable unit. The water slide has a single lane ladder that is easy to monitor and used to make sure only one kids goes up the slide at a time. Once two kids are at the top, they can race each other down to the bottom with the dual lanes.

The slide stands 20' tall and can be seen from a long ways away. The height and size of the Monster Water Slide allows for some serious slipping and sliding. A hose (any standard garden house works fine) is required to provide the water source of the water slide and only needs to be set on a trickle to keep the slide wet and slippery. The Monster Wave Water slide is definitely a big hit for summer time parties and a great way to beat the heat!

Book online or by giving us a call at (858) 560-2700.