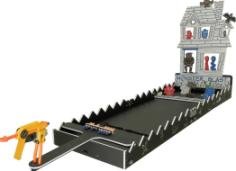 $95.00
Includes up to a 3 day rental (72Hours)
Monster Blast Carnival Game
The Monster Blast Game will be great for Halloween parties and any type of carnival style event as the guests will have fun as they try to shoot the Nerf gun with foam darts to knock-down the monsters in the stand-up house. It's a great test of accuracy and way more fun than a video game!
The monsters to be knocked down in this carnival or Halloween game include ghosts, ghouls, bats, and zonbies.
The Monster Blast Game comes in a convenient and durable carrying case that is formed when the game is folded in half so that it is easy to transport.