One Arm Bandit Money Machine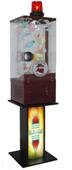 $250.00
Includes up to a 3 day rental (72Hours)
The "One Arm Bandit Money Machine" is a smaller version of the popular "cash cube". Great for corporate events, carnivals, and specifically trade shows. You can load the machine with real money, fake money, paper advertisements, or any message you want the participant to read. The machine lights up when the fan is on and it always attracts a crowd.
This "One-Arm Bandit" money machine has the capacity to hold 100 bills and will provide lots of fun as participants reach into the money machine and with the wind blowing the bills all around, they try to grab the money or promotional coupons as they swirl around! Fun to play, Fun t
o watch!

San Diego Kids' Party Rentals does not supply the money or any coupons to put inside-- that's on you!

Book online or give us a call at (858) 560-2700 to book!