Outdoor Propane Patio Heater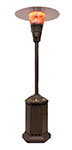 $150.00
Includes up to a 3 day rental (72Hours)
Actual Size: 89" H x 34" W (at the top)
Outdoor Propane Patio Heaters
Our patio heaters are the perfect way to extend your backyard entertaining season --or extend your party into the evening hours! We use the Venetian T-line of patio heaters which produce 360 degrees of infrared heat.
The sturdy patio heater rental units produce 40,000 BTU's using a 20 lb. propane tank and the portable patio heater has wheels for easy mobility. The rich finish perfectly accents and enhances your patio decor. This handsome CSA approved patio heater includes a tip over protection safety feature and comes complete with a full tank of propane.
The Venetian T-LINE-7MPB Commercial Propane Patio Heater in Heritage Bronze. The T-Line series features upgraded hardware, finishes, and eco-friendly heating options. Upgraded Solid Steel structure with hexagonal weighted base ensures durability and stability. The solid steel emitter along with the one-piece reflector dome produces 360-degrees of infrared heat. This T-LINE unit generates a powerful 40,000 BTUs of heat with Propane Tank to an area of 36 square feet. The units manual Touch-to-Start electronic ignition and Tilt Switch Auto-Shutoff makes it safe, simple, and efficient. The patented hinged-door allows easy access to burner assembly.
Power Source: Standard Propane (LP) or Natural Gas (NG) Upgrade

Power Rating: 40,000 BTU

Coverage Area: Approximately 36 sq. ft.

Consumption Rate: Continuous use with Natural Gas connection

Construction: Solid Steel

Safety Features: Tilt Switch Auto-Shutoff
Book online or give us a call at (858) 560-2700.