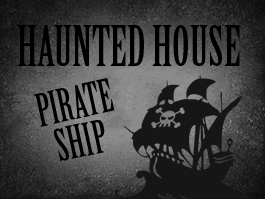 Pirate Ship Haunted House




Please call to reserve this item

Pirate Ship Haunted House
Ahoy, Matey! Step aboard me ship for some frightful fun, but steer clear of me plank.
Captain Blackbeard is looking for some new scallyways to join his crew. Do you have what it takes to pillage and plunder your way through the Pirate Ship Haunted House? The 10' x 20' tent has beautiful artwork on the outside and inside panels to make the tent look like a real pirate ship! Navigate your way through the tent but beware of the pirates! Ye be warned!
What's included in the Pirate Ship Haunted House Rental?
We designed these custom portable Haunted Houses in-house and you won't find them anywhere else! The Pirate Ship haunted house comes fully loaded with animatronic pirate props, a giant octopus, lighted lanterns, themed music, and professionally made haunt props.

Is the Pirate Ship Haunted House Appropriate for All Ages?
Yes! The Pirate Ship Haunted House is appropriate for pirates of all ages. We do suggest kids 8 and under walk through with an older friend or gaurdian.