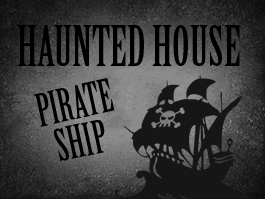 Pirate Ship Haunted House
Pirate Ship Haunted House
Ahoy, Matey! Step aboard me ship for some frightful fun, but steer clear of me plank.
Captain Blackbeard is looking for some new scallyways to join his crew. Do you have what it takes to pillage and plunder your way through the Pirate Ship Haunted House? The 10' x 20' tent has beautiful artwork on the outside and inside panels to make the tent look like a real pirate ship! Navigate your way through the tent but beware of the pirates! Ye be warned!
What's included in the Pirate Ship Haunted House Rental?
We designed these custom portable Haunted Houses in-house and you won't find them anywhere else! The Pirate Ship haunted house is priced for 3 hours and comes fully loaded with animatronic pirate props, a giant octopus, lighted lanterns, themed music, and professionally made haunt props. If you don't have access to power, we'll include all necessary generator(s). A complimentary Haunt Host is included with your reservation to welcome guests aboard your ship. Want to set sail for longer? Each additional hour (after 3 hours, included in price), is $150.

How Can I Make It Scarier?
Consider adding one of our LIVE character pirate entertainers to hide in the back and scare guests as they turn the last corner. It will be the last thing they are expecting!
Price for 3 hours is $300, and each additional hour is $100.
Is the Pirate Ship Haunted House Appropriate for All Ages?
Yes! The Pirate Ship Haunted House is appropriate for pirates of all ages. We do suggest kids 8 and under walk through with an older friend or gaurdian.
I Want to Rent Multiple Haunted Houses. Can You Give Me A Price Break?
YES-- we want to scare you as much as possible! Each of our five Haunted Houses (Spooky Swamp, Creepy Circus, Grim Graveyard, Pirate Ship, and Haunted Mansion) are priced at $1200 for three hours. Rent two for $1000/each, and three or more for $750/each! Call us at (858) 560-2700 and we'll help make your nightmares come true.