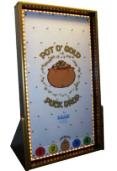 $95.00
Includes up to a 3 day rental (72Hours)
Plinko - Pot O' Gold Puck Drop Game
Create some added excitement at your next fundraiser or trade show event with our new "Pot O' Gold" game rental! It will be a great way to drive traffic to your trade show or carnival game booth and will surely excite and make your customers smile!
As participants drop the puck into the board with flashing rope light and sound effects - they'll be eager to try their luck on this fun game and promotional tool over, and over again!
The Plinko Pot O'Gold Puck Drop Game is made of real plywood with a lexan shield and features flashing lights around the perimeter of the frame and fun, carnival style sound effects. This rental requires access to power, but you can use it without, just note the lights and sounds will not work.