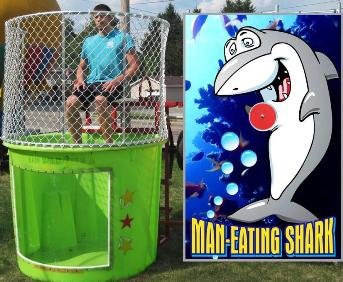 $450.00
Includes up to a 3 day rental (72Hours)
Premium Dunk Tank with Cute Man-Eating Shark Graphics
Dunk Tanks have been delighting crowds for years. The concept of dunking the boss at the company picnic, or dunking the local "celebrity" at fundraiser events has become an American pastime and this Premium Style Dunk Tank is the best available in San Diego!
This hard plastic polyethylene tub-style dunk tank with the see-through front widow area to easy viewing of all the dunking action! This Premium Dunk Tank is hard-mounted to a trailer, which comes with a self-contained travel dolly/hand-cart that also functions as the climbing ladder to the "Dunkee's" platform. The delivery area must have vehicular access.
The tank can hold 500 gallons of water and supports Dunkees of up to 250 pounds. Our dunk tank is lime green with a cute shark graphic. For safety, all Dunkees must be at least 18 years of age or older. Any age can throw at the dunk tank.
Requirements:
Access to a water source and the ability to drain the water in place at the end of the event. Client is responsible for filling and draining the dunk tank and must have it drained prior to the scheduled pick-up time.
Flat level ground with easy vehicular access. The dunk tank is attached to the trailer, which becomes the stabilizing mechanism and the access stairs to the dunk tank and therefore must have the vehicular access.
PLEASE NOTE- DUNK TANKS MAY NOT BE SET UP AT PUBLIC PARKS AS THE PARKS DO NOT GIVE YOU ACCESS TO THEIR WATER, AND DO NOT ALLOW DUMPING OF WATER IN PARK AREAS.