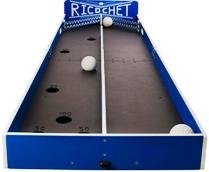 $95.00
Includes up to a 3 day rental (72Hours)
Actual Size: Open: 23" x 70.5" x 8.5"
Ricochet Carnival Game

The ricochet is a fun carnival game for all ages. The object is for the players to roll the ball down one side of the game board, have it ricochet off to the bungees, and land into the holes on the other side. Each hole on the other side is labeled with specific number of points where the object is to score the highest number of points in three tries. The highest scorer is the winner or give away prizes depending on how many points are won.
The Ricochet carnival game comes with a six foot folding table and all the balls. You just need to supply the guest. This game works perfect as a stand alone game in a convention style booth or at any school and church event, or even at a Halloween carnival.
For an even more dramatic effect and better look, add one of our carnival tents or carnival game booths to make you event stand out even more.