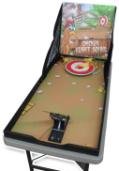 Rubber Chicken Flight School
Actual Size: 4 Foot Table, 5" Chicken




Rubber Chicken Flight School
Try and land one of the rubber chickens on the target and you win!! Just set the rubber chicken on the "chicken launcher", gently pull it back, and watch the chicken fly!
This is a fun carnival game or farm-theme party game rental that is good for children older than 2 years old. The chicken flight school carnival game rental includes 3 rubber chickens.
Please Scroll Down for More Detailed Images.