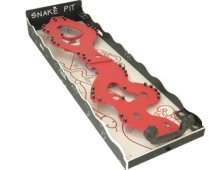 Snake Pit Carnival Game
Actual Size: Open: 23" x 70.5" x 10"




Snake Pit Carnival Game

The Snake Pit Carnival Game is more challenging than may of our other carnival game rentals - but, is perfect for the older kids as they try to rotate the red raceway so that the balls can roll down the raceway without falling off into the "Snake Pit". The trick is to use the mini bumpers positioned on the race way and slowly move the ball down the race track to the targeted holes. The holes toward the end of the race track have a higher value, comensurate with their difficulty level of achieving.