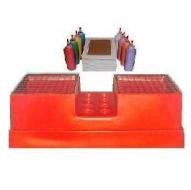 $50.00
Includes up to a 3 day rental (72Hours)
Actual Size: 36"W x 16"D x 24"H
Spin Art Machine Rental - Frisbee and Framed Card Dual-Option Machine
Our Spin Art machine rental comes with an extra "spin" by having two spinning basins and being able to paint
directly on Frisbees as well on the traditional 5" x 7" cards. Kids love Spin Art and it works as a great activity and provides the artist with a fun take-home gift from your party, carnival or event! Spin Art is also a popular fund raising activity, and especially with the Frisbees that allow kids to play with their own creations!

The user-friendly Spin Art machine can be used indoor or outdoor, simply place a card or flyer disc (Frisbee look-a-like) in the machine, then drop in paint and watch it swirl around to create unique works of art.
The Spin Art machine comes with sturdy collapsible legs, so there is no need for it to sit on a table, and it is built at a convenient height so both children and adults are comfortable while creating their Spin Art. Please note that the Spin Art machines that we rent are either red or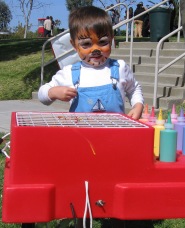 black. For safety, the Spin Art machines feature a
hinged screen on top which keeps fingers out, but allows easy access for the Attendant. The on/off switch is located at the back of the machine to provide easy access for the Attendant. The machine must be supervised by an adult at all times.
Please allow approximately 10 minutes for the paint to dry completely for mess-free transport. We recommend either a separate drying table covered with newspapers or a plastic cover, or lying the Spin Art masterpieces on newspapers on the ground. If you have a way to hang a string (e.g. around a canopy as in the photo to the left), it works well to clip the Spin Art cards to the line with a clothes pin so that they do not blow around in the wind, but be sure to write the child's name on the back so you know which one is theirs when they return.
Requirements:
DO NOT INLCUDE PAINT OR CARDS/DISC.
Access to an electrical outlet and a relatively flat area for set-up. If you are planning on using the Spin Art machine where an electrical source is not available, you can rent a generator for an additional charge. Please note that many Park and Recreation areas require a special permit if a generator is used. Often the generator can be used for multiple items (e.g. snow cone or cotton candy machine or a small inflatable jump). Please give us a call and we can help with any of your questions. Or, click for more information about
Holding Your Party in a Park