Swashbuckler Pirate Carnival Game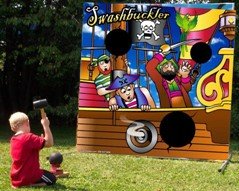 $95.00
Includes up to a 3 day rental (72Hours)
Swashbuckler Pirate or Carnival Game!

Ahoy Matey -- what's more fun for a young pirate than to catapult a rubber "cannon ball" into the pirate ship? The kids will love it!!!
This is the perfect complement to any kids birthday party, pirate theme party, school event, of community carnival! Just be sure that there is plenty of clearance between the player and the spectators in case the cannon ball is on an errant course......
The catapult is a white spring board that the kids stomp their feet and use their weight and power to catapult the "cannon ball" into the ship.