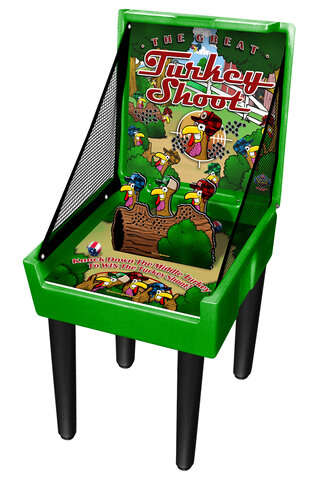 $75.00
Includes up to a 3 day rental (72Hours)
Setup Area: 24" Width x 30 deep x 45" tall
The Great Turkey Shoot Knockdown carnivall game features three grinning turkeys that need to be knocked down with the hacky sack to win. The carnival game is very easy to move around and has detachable legs that let you set it up pretty much anywhere. These types of games are perfect for the preschool to 7 year old range and make great attractions at any carnival themed birthday party.
Want to save money on renting the The Great Turkey Shoot carnival game? Opt to come pick up the game at our warehouse and not only willl you save money on the price, but picking up and returning to San Diego Kids Party Rentals will not fall under any minimum order or delivery fees. Visit the The Great Turkey Shoot for Customer pick up. Turkey Shoot for Customer Pick up
Start your party planning today and rent the Great Turkey Shoot carnivnal game.