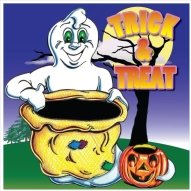 Trick or Treat Halloween Game
Trick or Treat Halloween Game
Make your annual Halloween party the hit of the year with this colorful and exciting new Trick or Treat game!
The party goers try to toss the super cute, squishy "koosh" ball Jack-O-Lanterns into the ghost's goodie bag. If the ball goes in, they get to grab a prize out of the inside of the Jack-O-Lantern! (Prizes not included)
This is the perfect complement to an
y Halloween celebration, school event, Trunk or Treat party, or just a fun game for your very own Trick or Treaters!! OK -- the real low down is that kids love this game all year round so be sure to add it to your carnival party or other celebration!
The Trick or Treat Halloween Game is a self-standing game on a sturdy