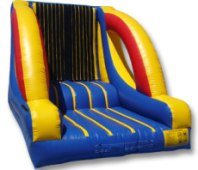 Velcro Wall
Actual Size: 18Lx11wx12H
Setup Area: 22Lx15wx14H




This is Your Chance to Defy Gravity!!
The inflatable Velcro Wall is a great interactive inflatable rental for teens, adults, and even some adventurous young kids! Just put on the Velcro "Sticky Suit" then run, bounce and jump as high as you can on the Velcro Wall! You'll stick to the wall however it is that you land, which will surely leave some very interesting positions!! Once on the wall, the participants try to move their hands and legs free from the Velcro for some great fun and entertainment for everyone watching!!
The Velcro Wall is perfect for Grad Night graduation parties, school carnivals, church events, company picnics and just everyday backyard fun! Be sure to have your camera as there will surely be lots of "Facebook" worth photos!!
We have 4 sticky suits, 2 in a larger adult size and 2 in a smaller, child-size.
Requirements:
* Level ground and a 16' x 16' footprint
* Accessible via a minimum of a 3-foot wide space from the driveway/street
* No overhead obstructions up to 12' high
* Electrical power within 100-feet of where the Velcro Wall will be set-up
San Diego Kids' Party Rentals, Inc. is fully insured and can list your company or organization as additionally insured on our policy upon request.
If you plan to use this Velcro Wall at a Park or Recreation Area, you likely will need to rent a generator to provide the power source and obtain a special use permit. San Diego Kids' Party Rentals is listed as an "approved" vendor at most local parks and recreation areas in San Diego county. Click for San Diego Park Information