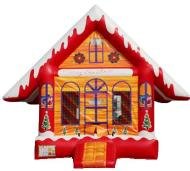 $350.00
Includes up to a 3 day rental (72Hours)
Setup Area: 17'L x 16"W x 18'H
Actual Size: 14'L x 14'W x 17'H
Gingerbread Christmas Bounce House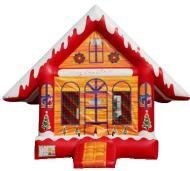 This super cute Gingerbread-type of kids bounce house rental is perfect for a winter holiday party, Christmas celebration, or any type of get-together that involves kids having lots of fun!
The bounce house looks like a house covered with a snowy roof and holiday decorations that include wreaths, Christmas-tree, and other Christmas decorations. Above the entry door, there is a script font welcoming that says "Merry Christmas".
The Christmas Gingerbread Bounce House has an inflatable ramp for ease of access and windows on all sides to view the jumping action happening inside the gingerbread bounce house.
The set-up location must be relatively flat, large enough to accommodate the Christmas Gingerbread House bounce house with at least 2-feet on all sides, within 100 feet of a standard electrical power source, and accessible via a minimum of 3-foot wide space from the driveway/street. If you are planning to hold your party at a park or recreation area, you likely will need a generator to provide the power source and attain a special use permit.
San Diego Kids Party Rentals, Inc. is listed as an "approved vendor" with the City of San Diego and other neighboring cities so that you can just list our company in the designated space on your special use permit application to expedite your permit process.
Click for
San Diego Park Information
Please note IF YOU ARE DOING YOUR RENTAL AT A PARK, you will need a generator and many parks require you to rent the generator from the same bounce house/inflatable rental company (check with your local park for details). San Diego Kids Party Rentals rents out generators and each inflatable will take one generator.
Every park will also require you to obtain a permit for an inflatable. Many of the parks have different permit fees and restrictions, so once again, please check with the local park for details. San Diego Kids Party Rentals can not obtain the permit for you.