Snow Cone Machine Polar Pete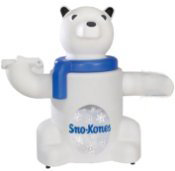 $75.00
Includes up to a 3 day rental (72Hours)
Polar Pete Snow Cone Machine!
Need a way to cool off as the weather gets warm? The Polar Bear-shaped Snow Cone machine is not only the cutest sno cone machine around, it's also one of the most rugged and portable commercial-grade sno-cone makers available. It's made of light-weight materials, but it still has the same components and power as the more traditional snow cone machines. It also has an impressive output with the capability to churn out 500 pounds of snow per hour! That's a lot of snowcones!!!
Want to save money on renting the The Polar Pete Snow Cone Machine?
Opt to come pick up the snow cone machine at our warehouse and not only will you save money on the price, but picking up and returning to San Diego Kids Party Rentals will not fall under any minimum order or delivery fees. Visit the The Polar Pete snow cone machine for pick up.
Polar Pete Snow Cone Machine for Customer Pick up
NOTE: Customers must supply the ice and cooler, usually a 10 to 20 pound bag of ice will be sufficient for a party of approx. 50 kids. Any household cooler that will keep the bagged ice cold should work fine.
Rent Polar Pete with the Matching Insulated Ice Chest for an Even Cuter and More Functional Snow Cone Machine Rental!!!