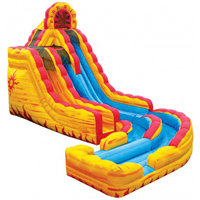 $625.00
Includes up to a 3 day rental (72Hours)
Setup Area: 35'L x 21'W x 21'H
Actual Size: 32' L x 19' W x 20' H
Fire n' Ice Inflatable Water Slide
The new 20' Fire 'N Ice Inflatable Water Slide with Landing is the first two-story water slide, which gives kids the option to choose from what height they want to slide down. The kids climb up the ladder and either stop at the first platform and slide down the smaller slide, or continue 4 feet higher to the taller 20' high slide. The bottom of the slide features a 90 degree turn and ends after ten more feet of sliding fun!
The Water slide hooks up to a garden hose and the water just needs to "trickle" to keep the slide nice and wet and ready for sliding!
Because of its versatility, the Fire 'N Ice Water Slide is great for kids and adults of all ages! Call us today to add some wet and wild fun to your next event!