Insulated Snow Cone Ice Chest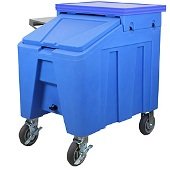 $65.00
Includes up to a 4 day rental
Insulated Snow Cone Ice Chest that is the perfect complement to one of the snow cone machine rentals for any type of summer party. The insulated snow cone ice chest is available for rent from San Diego Kids Party Rentals.
Insulated Snow Cone Ice Chest!
For the most complete snow cone set-up...ever -- Now you can use any of our Snow Cone machines with this easy-to-roll ice chest. The combination of the snow cone machine and the insulated ice chest makes this an impressive concession rental for any fair, festival, or special event! The chest hold approximately 90 pounds of ice and has convenient shelf to hold your flavor syrup bottles -- all designed for super easy use!
The ice chest opens from the front with a convenient drawer that rolls up to make access to the ice super easy!
Large 6" locking casters make moving your set-up easy and fast. The front spigot makes for ease of access for quick draining.
NOTE: Ice is NOT included with the Rental of this Snow Cone Insulated Ice Chest and the Snow Cone machine must be rented separately.