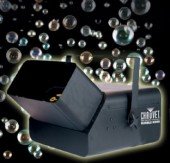 Large Bubble Machine
Actual Size: 12.5" x 7" x 6.5"




Large Bubble Machine
The Large Bubble Machine is designed for larger areas, where portability remains a top need. It features an all plastic construction to prevent rust and lower weight, with an easily removable fluid tank.
The machine comes with a 1/2 gallon (2 quarts) of professional Max Bubble Solution, a high-performance solution that will last approximately 1 hour and produces a very high volume of bubbles. Each additional quart of Max Bubble Solution may be purchased for $20 (and will last approx. 30 minutes).
The machine runs on electric and can be plugged into a standard wall outlet. Power: 110V or 230V *