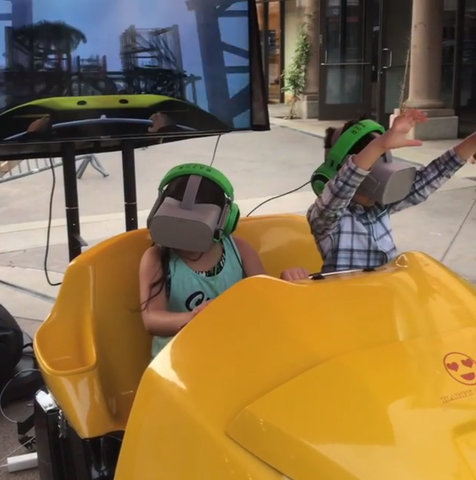 Virtual Reality Roller Coaster
Setup Area: 10' x 10 '
Outlets: 1




Are you ready to feel the thrill?!
Our Virtual Reality Roller Coaster is fun, unique, and is sure to be a hit at your event!
Climb on into the roller coaster car (it seats two people at a time), put on the VR helmet, and get ready for a thrilling ride! We provide you with a fully immersive experince, which means you can see 360 degree view, allowing you to look up, down, left, and right. Our coaster also comes equipped with an air machine to give you the feeling that you are actually moving.
Choose from over 25 different ride scenarios and sit back and enjoy your 3 minute ride. We have rides appropriate for children as young as age 2. We set up a large display screen behind the riders so onlookers can see what they're seeing, too.
The portable equipment can be set up nearly anywhere-- your back yard, an office, a local park-- you name it! Please note the Viritual Reality Roller Coaster does require access to electricity, so if you don't have power nearby, you'll need to rent a generator as well.
The Roller Coaster can be booked for a four hour or an 8 hour period. Great for birthdays, corporate team building, Bar and Bat Mitzvahs, weddings, school events, and Quinceneras.