Carnival Games

All prices shown include *FREE DELIVERY!

*With minimum order amount per zip code

Displayed Pricing = 3 day rental (BEST VALUE)

or a 1 Day rental of up to 4 hours

*Single day rentals of more than 4 hours are an additional 10% per hour
Alpine Carnival Game Rentals
Great fun with multi-player interactive games, carnival games, Eurobungy, picnic games, rock climbing wall, and inflatable sports games for kids party rentals in San Diego. These interactive fun games are perfect for company picnics, birthday parties, corporate team building, street fairs or festivals, school or church fundraisers, or for any event that involves having fun!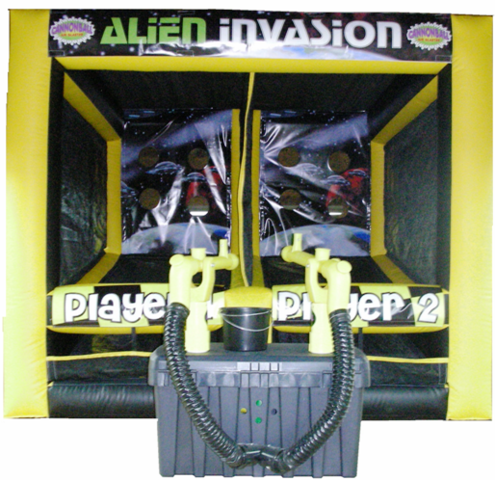 Featured Carnival Game Rental for Alpine
Alien Invasion Cannon Ball Blaster Game


The Alien Invasion Cannon blaster carnival game can be played as a solo or verse an opponent. Compressed air fills the cannon blaster where you insert the soft foam ball. Try to shoot the balls through the holes of the inflatable. If your ball goes through the hole it come back on your competitors side, if not it roles back to you.

To play, you can either play the first one to empty their basket wins or keep score after a certain time limit...even though most people will just enjoy playing not caring who wins this game. The Alien Invasion Cannon Ball Blaster takes one regular size blower and one small blower and can be rented for any school carnival, festival, party, or corporate event in San Diego.


Order Now!
Best Selection of Carnival Games in Alpine!
San Diego Kids' Party Rentals offers the finest selection of inflatable bounce houses and carnival games available in all of Alpine and surrounding areas. All of our bounce houses, rides and equipment are professionally maintained, cleaned, and inspected before every use to ensure your kids safety and enjoyment. The carnival games are classics and a hit for birthday parties, school functions, little leagues, and anywhere else that you want to have a good time!

Safety is our number one concern and we purchase only the safest carnival games available. All of our carnival games are made in the U.S. and have passed all required safety and fire regulations. If you would like to add an attendant to watch over and ensure all of the kids are properly using the equipment, we are happy to provide one at an additional charge.

Select the Date and Times of your party or event.
Everything displayed after date selection is AVAILABLE for rent.
Select the items you are interested in.
Input your information, as well as where the event will be held.
Pay a small deposit or pay in full.
Instant email order confirmation = Peace of Mind :)
Best Spots for Carnival Games?
Backyard Parties
School Events
Mitzvahs
Church Festivals
Sporting Events
and More!
Carnival Game Rentals for all Themes and Parties in Alpine!
One of our funniest and more challenging is our Snake Pit carnival game. Try to reach the end or make it to any of the point holes along the way. Setup is available to deliver to Alpine parties and events and while the game will challenge any of your guests, it is hassle-free to use. Simply order, let us deliver, open the box and you're ready to have fun! Can you make it to the end?
Carnival Game Rentals in Alpine
For over a decade San Diego Kids' Party Rentals has been dedicated to serving the
Alpine
area. We offer competitive pricing, Free Delivery, and the largest party and event rental inventory in the area.
Whether the occasion be a big event with carnival games, mechanical rides, and some of our larger event equipment options, or a bounce house for your little one's special birthday party, our goal has always been to deliver memorable experiences to each and every one we serve.
No event is too big and no party is too small! Choose from bounce house rentals, an inflatable bounce house with slide, waterslide rentals, inflatable obstacle course rentals, inflatable games, carnival rides, themed party inflatables, movie screen rentals, and much more!
Yes, We Deliver Carnival Games to Alpine!
Looking for bounce house rentals? Well you have come to the right place. San Diego Kids Party Rentals is a guaranteed hit! We have been providing fun party rentals for San Diego and it's surrounding areas for over 10 years. We specialize in party rentals for events such as but not limited to: backyard parties, school festivals, birthday parties, church carnivals, high school. We bring the fun with
Bounce Houses
, Bounce Houses with Slides, Toddler inflatables,
Water Slides
and
Inflatable Dry Slides
,
Inflatable Interactive Games
,
Obstacle Courses
,
Carnival Games
and Concession and Food Machine Rentals. To give your party another level of enjoyment, we also offer tent, table and chair rentals, special effect machine rentals, equipment rentals, inflatable movie screens, sky dancers, yard signs and even generators to power it all.
Our Service Area
Proud to Serve The Following Areas:


If your party or event is beyond that radius, just let us know! We may be able to make special accommodations to suit your event.

NOTE: Fees may vary depending on how far you are outside our service area.
https://www.google.com/maps/embed?pb=!1m18!1m12!1m3!1d107265.36217669824!2d-116.82707789635995!3d32.84412457304422!2m3!1f0!2f0!3f0!3m2!1i1024!2i768!4f13.1!3m3!1m2!1s0x80d960efbcb72153%3A0xee132b6842c123b1!2sAlpine%2C%20CA!5e0!3m2!1sen!2sus!4v1618261564568!5m2!1sen!2sus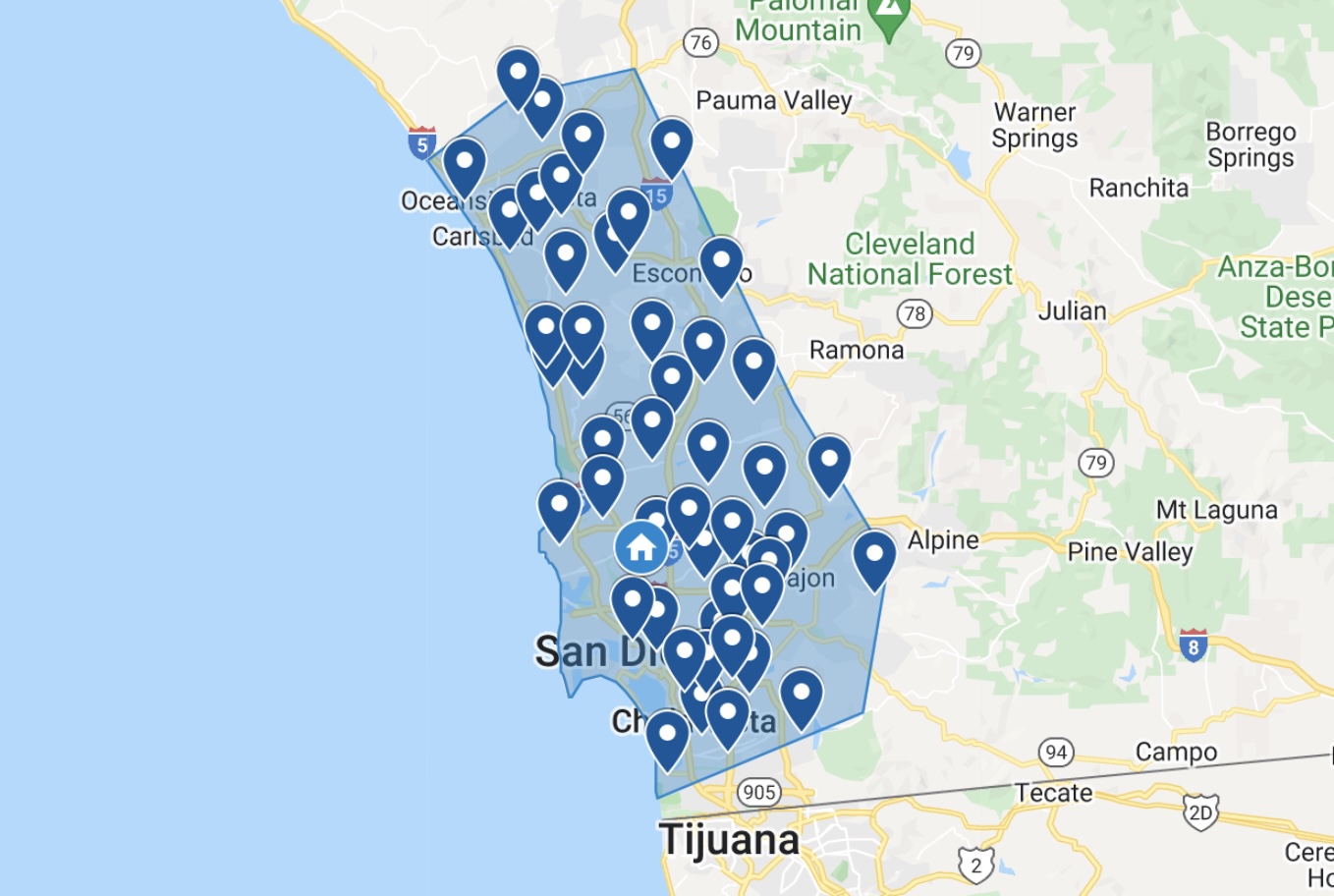 People That Rented Carnival Games Also Shopped for: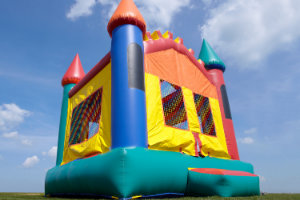 Bounce Houses
Everyone loves a bounce house. We have the finest selection of clean and sanitized inflatable bounce houses and jumpers available in all of San Diego. Let your kids bounce until they are worn out.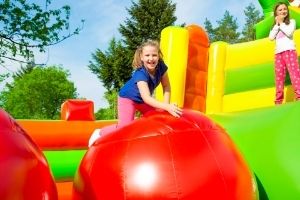 Interactives
These interactive games are perfect for company picnics, birthday parties, corporate team building, street fairs or festivals, school or church fundraisers, or any event that involves having fun!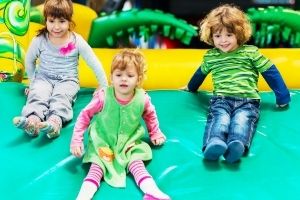 Toddler Inflatables
Your little one deserves to play in a bounce house just as much as the big kids that is why we offer inflatable bounce houses for toddlers! So your little one can have fun without being hurt by the big kids.
What are your deposit and cancellation policies?
All reservations must be secured with a 50% deposit to reserve the inflatable unit, entertainment and/or rental equipment. A credit card is required for all bookings, even if it is just to be kept on file and actual payment is via cash or check. We accept Cash, Visa, MasterCard, and American Express. Personal checks are only accepted for deposits made more than 14 days prior to the event. All balances must be paid before the time of delivery. With prior agreement, we do accept company checks. Cancellation Fee: If cancelled 8 or more days prior to your event - $50 Cancellation Fee or the cost of the rental/entertainment, whichever is less If cancelled within 7 Days of your event (except within 72 hours of event), Cancellation Fee of 50% of total order amount If cancelled within 72 hours of event, Cancellation Fee of 100% of total order amount These fees will be charged to the credit card on file. Cancellation of rentals due to inclement weather (rain, lightning, high winds) prior to San Diego Kids' Party Rentals, Inc. (SDKPRI) delivering or setting up rented equipment, will result in a cancellation with any deposit and/or payment able to be applied to another rental time period within 90 days at the Lessee's choosing, pending equipment availability. Cancellation after SDKPR has set-up the jump or equipment, will result in full payment for the rental. Additional terms and conditions may apply to rescheduling and/or shortening the duration of Entertainment Additional Policies for Parties with Entertainment: If the duration of the performance is shortened within 7 days prior to the event, 100% payment or the original duration will be required. These fees will be billed to the credit card on file.
What are your delivery, setup and take-down processes?
San Diego Kids' Party Rentals, Inc. ("SDKPRI") will deliver and set up each Inflatable Unit, food equipment, tables/chairs and other rental items. We will ensure that all rental items are clean and in good working condition well before your party starts. Before leaving, we will review with you all safety and operating procedures. We'll come back to take it down after the party is over. Set up normally takes about 15-30 minutes, and take down is about 30-45 minutes per unit or rental equipment. Water slides often require longer set-up and take-down.
What do I need to be able to set-up an Inflatable Unit?
All sprinklers must be shut off one day prior to set-up of the Inflatable unit. An electrical outlet must be located within 100 feet of the set-up position. Adequate space must be available for the Inflatable Unit, which generally is 2-feet of unobstructed area around the Unit and a bit more at the entrance. Access to the set-up area must be unobstructed for a 3-foot wide hand-truck (dolly). There must be a flat area to setup the bounce. We can set-up on a slight incline, but will not set-up if the incline is so steep that the children using the Inflatable Unit will automatically slide to the downward sloping side.
What kind of power is required?
Our Inflatable Units plug into a standard 110V household outlet. We will supply a heavy-duty extension cord and ask that nothing else be plugged into the same outlet that is being used for the Inflatable Unit. Placement of the Inflatable Unit should be no more than 100 ft from that outlet. If you would like to set up an Inflatable Unit at a park or a place without an electrical outlet within 100ft, please let us know and we can arrange to provide a generator and gasoline for an additional charge.
On what type of surface can the Inflatable Jump, Slide or Obstacle Course be placed?
The safest surface is a level grassy area. However, we can set up on concrete, asphalt, or bark. We can even set up the Inflatable Unit in a driveway or cul-de-sac. Please specify when ordering which surface we will be setting up on and we will make sure that we bring the proper anchors for your event. Please note that set-ups on dirt surfaces typically incur an additional $50 to $100 cleaning fee due to the condition of the equipment at the end of the rental period.