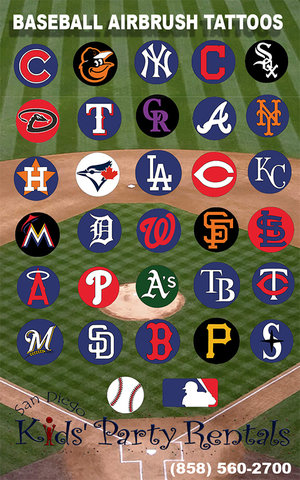 MLB Airbrush Tattoo Artist
Major League Baseball Airbrush Tattoos
Custom designed in-house, you won't find these Major League Baseball Airbrush Tattoos anywhere else! Great for Softball and Little Leage Opening and Closing Day Ceremonies, sports events, or even private baseball themed birthdays! Show some team spirit and have your favorite team logo sprayed on your face or arms. If properly cared for, the artwork can last for up to 5 days, but is also easily removed with some soap, water, and gentle scrubbing.
Choose from any of the following designs:
San Diego Padres
Chicago Cubs
New York Yankees
Los Angeles Dogers
Toronto Blue Jays
Clevland Indians
Boston Red Sox
New York Mets
Texas Rangers
Atlanta Braves
Detroit Tigers
Baltimore Orioles
San Francisco Giants
St. Louis Cardinals
Washington Nationals
Pittsburgh Pirates
Houston Astros
Los Angeles Angels of Anaheim
Seattle Mariners
Philadelphia Phillies
Kansas City Royals
Miana Marlins
Cincinnati Reds
Minnesota Twins
Milwaukee Brewers
Oakland Athletics
Arizona Diamondbacks
Colorado Rockies
Tampa Bay Rays
Chicago White Sox
Book online or call us at (858) 560-2700 to reserve the MLB Airbrush for your next baseball themed event!