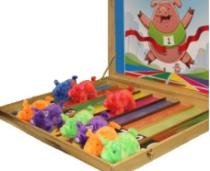 $150.00
Includes up to a 3 day rental
Pig Race Carnival game with these super cute, battery-operated pigs that walk, then randomly stop, make adorable oinking noises as they move their little pig noses and tails, then walk some more toward the finish line.

One of our most popular canrnival games! The Pig Race Carnival game comes with nine super-cute, battery-opperated pigs that walk at random intervals. Contestants each choose a pig and root for them to make it to the finish first! Set the pigs at the starting line and lift the gate to see which one will win. It's different every time!
Book online or give us a call at
(858) 560-2700
.